When & Where?

Saffron Walden Scout Hall
Bujinkan Saffron Walden Dojo
Welcome to the website of the Bujinkan Saffron Walden Mushinzui Dojo. Located in the quaint market town of Saffron Walden in Essex, just 16 miles south of Cambridge, and 13 miles north of Bishops Stortford, situated between Royston and Haverhill, the Bujinkan Saffron Walden Mushinzui Dojo teaches a martial art and self-defence system, derived and refined from nine traditional Japanese martial art lineages.
Mushinzui Dojo Jujutsu
Mushinzui Dojo Jujutsu is the foundation of our training and practice at the Bujinkan Saffron Walden Mushinzui Dojo. Mushinzui Dojo Jujutsu is a modern practical and up-to-date martial art, self-defence and fighting system, based on traditional techniques, developed over hundreds of years in feudal Japan. As well as being a self contained martial art system, Mushinzui Dojo Jujutsu provides a foundation for later training in the nine lineage schools of Budo Taijutsu - the principal martial arts techniques of the Bujinkan organisation.
Our Ten Stage Programme
Training at our Martial Arts School, you will be taught modern practical and efficient Jujutsu techniques, using our in-house methodology, developed to empower and facilitate individual learning styles. On your way to gaining your black-belt, your learning will be structured using our unique Mushinzui Dojo Jujutsu syllabus; you will progress and develop through our ten stage training programme.
You can learn and progress at your own pace, in a friendly informal environment, supported by senior club members and teachers.
Our Mushinzui Dojo Jujutsu techniques have a two-fold aim: firstly to teach you unrivalled and devastating self-contained practical self-defence techniques; secondly to give you a solid foundation, and key skill set, to be able to progress to black-belt, and learn the full array of Budo Taijutsu techniques of the Bujinkan lineage schools.
Try Our Temporary Membership Deal
If the idea of going along to a new class and having to make financial commitments, before knowing if you'll like it, is a daunting idea for you, then you'll love our temporary membership deal. You can come along and try up to four classes for £40 without any additional financial outlay. So email us now and book your slot. Or come along to our Saffron Walden Martial Arts class on a Tuesday evening and watch a class first.
What is Jujutsu?
Jujutsu is a traditional martial art originating in Japan over 800 years ago. Roughly translated, Jujutsu (aka Jujitsu or Jui-jitsu, or Jitsu) means to defend yourself without using force.
Mushinzui Dojo Jujutsu is a self-defence system that does not require you to be big, strong, or fit. In fact, Mushinzui Dojo Jujutsu is very well suited to those looking for a martial art and self-defence system that can still be used as we wax and wane through differing levels of personal health, strength, and fitness.
Young strong and fit, or old weak and unfit, Mushinzui Dojo Jujutsu is suitable for all types of people; our unique techniques, employ leverage and balance, rather than 'brute force' and strength.
That being said, if you are strong and fit, Mushinzui Dojo Jujutsu becomes a devastatingly powerful self-defence and martial art system in your hands.
What is a Typical Class Like?
A usual class, which lasts for two hours, begins with Body-Flex: 15 minutes of yoga-like body conditioning. This warms up your muscles and ligaments, as well as improving and enhancing your physical flexibility, for better Jujutsu technique.
Next we work on Ukemi, which is a set of techniques that teach us how to fall and recover without injury, as well as evade and escape in self-defence situations, where we find ourselves in an uncompromising position on the floor.
After we have prepared our body and trained our Ukemi, we move onto the main part of the lesson, where we train with a partner, learning, practising, and testing our Jujutsu techniques.
Competition and Sparring?
Mushinzui Dojo Jujutsu is derived from traditional Japanese battlefield and peace-time fighting techniques, which can be dangerous if not used in a safe and controlled environment.
Because of this, we do not enter into, or participate in, any kind of competition or league fighting, which are usually more suited to modern day sports martial arts. We do however, from time-to-time, hold sparring sessions at the Mushinzui Dojo, when training with techniques suited for high speed self-defence.
Can I Progress Beyond Black-Belt?
Getting a black-belt, is often in the fore-front of people's minds when training in Martial Arts. At our Martial Arts School, we have a programme designed to take a student all the way to 4th dan (4th degree black-belt).
After completing our Mushinzui Dojo Jujutsu syllabus, to gain their black-belt, students at the Mushinzui Dojo Martial Arts School, start to learn Budo Taijutsu lineage schools techniques, with a strong foundation and skill level developed through training and mastery of Mushinzui Dojo Jujutsu.
For first level black-belt (1st dan), you will become proficient in Gyokko Ryu Kosshi Jutsu. For the second level black-belt (2nd dan), you will learn and practice Takagi Yoshin Ryu Jutaijutsu. For third level black-belt (3rd dan), you will deepen your Jujutsu understanding, becoming proficient in Shinden Fudo Ryu Jutaijutsu techniques. For fourth level black-belt (4th dan), you will learn Kukishin and Shinden Fudo Ryu Daken Taijutsu techniques.
After this level, you are welcome, when you feel ready, to take the 5th dan test at the head dojo of the Bujinkan organisation in Japan, and become a Shidoshi. Your training then becomes more self-directed. All your further grades and levels then become the responsibility of the Venerable Grandmaster Masaaki Hatsumi, his lineage school heads (Soke), and his senior Shihan.
More Questions, Can I Get in touch?
If you can't find what you want to know on this website, feel free to drop us an email and get in touch, and we'll do our best to answer your quandaries in a timely fashion.
Click here to find out about us at the Bujinkan Saffron Walden Martial Arts Dojo.
Mushinzui Dojo Head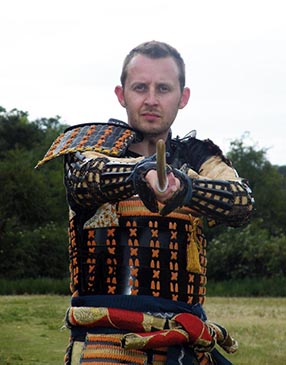 Grandmasters
Martial Art Lineage
Dr Hatsumi who lives and teaches in Japan, formed the Bujinkan organisation in the mid 20th century to preserve and transmit the prescious knowledge kindly transmitted to him by his teacher Osensei Takamatsu Toshitsugu, the previous Grandmaster of this tradition.
The nine martial art schools (ryu) that Dr Hatsumi holds the title of Soke (Grandmaster) for and constitute the main lineage schools of the Bujinkan organisation: Gyokko Ryu Kosshijutsu (28th Soke), Koto Ryu Koppojutsu (18th Soke), Takagi Yoshin Ryu Jutaijutsu (17th Soke), Kukishin Ryu Happo Bikenjutsu (28th Soke), Shinden Fudo Ryu Dakentaijutsu (26th Soke), Togakure Ryu Ninpo Taijutsu (34th Soke), Kumogakure Ryu Ninpo (14th Soke), Gyokushin Ryu Ninpo (21st Soke), and Gikan Ryu Koppojutsu (15th Soke).
Over the period 2019 – 2021, Dr Hatsumi passed the responsibility of heading, preserving, developing and transmitting the individual lineage schools that he received from his teacher Osensei Takamatsu Toshitsugu, to a number of his senior students. As such, these students became the Grandmaster (Soke) of the individual lineage schools.
These new lineage Grandmasters and the lineage they are now responsible for preserving are:
Ishizuka Tetsuji – Gyokko Ryū
Noguchi Yukio – Kotō Ryū
Nagato Toshirō – Shinden Fudō Ryū
Tsutsui Takumi – Togakure Ryū
Furuta Kōji – Kumogakure Ryū
Kan Jun'ichi – Gyokushin Ryū
Sakasai Norio – Takagi Yōshin Ryū
Sakasai Norio – Gikan Ryū
Iwata Yoshio – Kukishin Ryū