Bujinkan Dojo Gi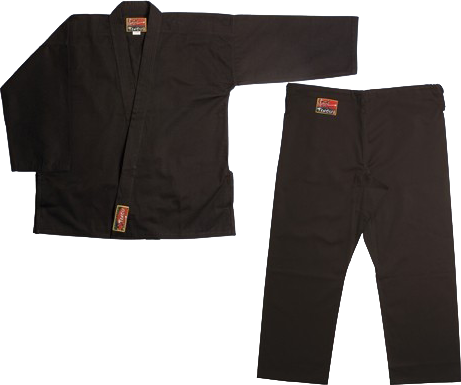 In Bujinkan Budo Taijutsu we train wearing a black Gi and Tabi (see footwear). When buying a Gi it is important to go for a high quality heavy weight (14oz+) Gi. A Gi should easily last you 10-15 years. A light weight Gi (12oz or below) is a false economy as it will rip during training and require replacing.
Some people buy this 12oz Ninpo Taijutsu Gi for Bujinkan martial arts training. This has the advantage of being produced in half sizes, such as 4.5 and 5.5, for those that don't fit into more popular sized gis.
Bujinkan Footwear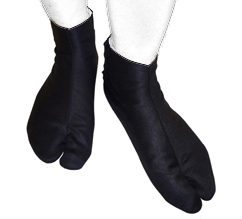 For training at the Mushinzui Dojo Martial Arts School, in addition to a black Gi you need to wear indoor Tabi on your feet. These are traditional Japanese footwear that are commonly worn for martial arts training and other traditional events in Japan. These are available on ebay from Japan or from ninecircles in the UK.
Some people like to wear Kyahan ankle protectors to keep their Gi trousers tidy and out of the way when training. These can be particularly useful to help keep more warm in winter when training. These are not a compulsory part of our martial art uniform, but rather an added extra. These are also available from Japan via this ebay seller.
We are always looking to recommend reliable suppliers of high quality martial arts equipment. So, if you find a supplier that you think we should add to this page, or you are a supplier of high quality Gi and Tabi, please email us link details.
See our Martial Art Weapons links.