Our Recommendations
We recommend the following books and DVDs produced by the Grandmaster of Bujinkan Budo Taijutsu – Dr Masaaki Hatsumi. If you decide to buy any of these items from amazon, please use the links on this page and a fraction of the sale will go to help run the club. The price of these articles are the same as if you were to buy them through an amazon search directly; amazon just give the dojo a recommendation fee if you buy through our link.
Bujinkan Books in English
Other Authors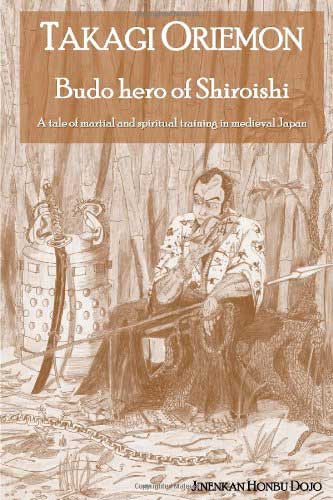 This book is a brilliant read. It is the life story of Takagi Oriemon, the founder of the Takagi Yoshin Ryu, which is the main Jujutsu school of Bujinkan Budo Taijutsu.
This biography charts Takagi Oriemon's early life, where he spent ten years wandering Japan, meeting Bujutsu masters and perfecting their martial art styles. It chronicles the meeting of his main martial art teachers, as well as his successor. It paints an excellent picture of what it was like for an aspiring martial artist in Japan in the 1600s.
Of the nine separate martial arts lineages of Bujinkan Budo Taijutsu, the Takagi Yoshin Ryu is one of the more publically well documented. This is due to the fact that, unlike many of the nine lineage schools that constitute Bujinkan Budo Taijutsu, the Takagi Yoshin Ryu has additional surviving lineages that exist in Japan outside of the Bujinkan organisation.
The current martial arts lineages other than those of the Bujinkan that can trace their origins back to the Bujutsu or Takagi Oriemon include: Hontai Yōshin ryū, Takagi ryū, Takagi Hontai Yōshin ryū, Kukishin ryū, and Minaki Den Kukishin ryū.
For those interested in the Takagi Yoshin Ryu martial art schools of Jujutsu, in all of their current forms, then this is a must have read.
Bujinkan Training DVDs
The following DVDs are produced by the Bujinkan Soke (Dr Masaaki Hatsumi). These DVDs are in Japanese with English subtitles. Although a little pricey they are well worth the money. You can sometimes get them second hand on eBay, but be aware there are pirates passing them off as originals. See the Queststation website for a comprehensive list of Bujinkan training DVDs produced by Dr Hatsumi.
Bujinkan Books in Japanese
The following three books are re-prints of a set of books from the early 1990s which have more recently been difficult to get hold of and thus often sold overpriced on eBay. They are much cheaper on amazon.co.jp, and are definitely worth buying as future reference books. Although written in Japanese they contain hundreds of photos of weapons techniques from the densho. The first of the books below is all about spear (Yarijutsu aka Sojutsu) techniques. The second book below is a book on Bo-Jutsu, and the final book covers Hanbo-Jutsu, Jutte-Jutsu, and Tessen-Jutsu.
See our Martial Art Clothing links.