Dojo News
Saffron Walden Dojo Beginners
Periodically we offer a four week course for beginners and improvers. These are well suited for people with little or no experience of martial arts and self-defence. During these four lesson courses we will teach you a brief overview of the core basics of Jujutsu and Taijutsu.
Limited places on these taster courses?
We like to keep the class size small to ensure you have the best experience from our taster courses, so places are limited. It is advisable to book early to ensure you secure a place on the next available beginners and improvers course.
Keep an eye on our dojo news for news of upcoming Jujutsu and Taijutsu beginners and improvers courses.
But what if I can't get a place?
If you cannot get a place on the next course or we don't have any scheduled in the near future, don't despair. Just get in touch and come and try our £40 trial membership deal which offers up to four inclusive lessons at no extra cost.
Click here for our contact details at the Bujinkan Saffron Walden Dojo.
Theme: Combat Jujutsu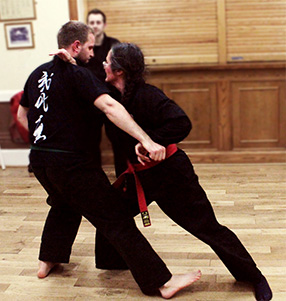 We periodically change the theme of the training at the Mushinzui Dojo Martial Arts School. With nine separate martial art lineages to draw on, each containing hundreds of armed and unarmed defensive techniques, there is always something new to learn.
We like to give a mix of traditional and modern to our training themes. This ensures we keep true to the authentic Japanese source, whilst making it applicable and practical to modern day western life.
Our current theme 'Combat Jujutsu' is a modern day application of traditional Japanese Bujutsu techniques. This theme is in essence the cornerstone of the Close-Quarters Combat and Self-Defence aspects of the Jujutsu practiced at the Mushinzui Dojo. It is highly applicable to both experienced professionals (such as soldiers and security enforcement) and those without any combat experience such as those wanting to learn to defend themselves and their family.
Dojo Timetable